Real Estate Services
---
Resources for Buyers & Sellers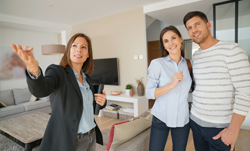 Thinking of selling a home or investment property? Thinking of owning a home, diversifying your investment portfolio into Real Estate, or becoming a landlord? We look forward to being your trusted advisor and partner fulfilling your Real Estate needs.
Residential Property Buyers
On the buyers side we have experience in new home and existing home sales, as well as experience helping the investor. We believe the buying process should be about finding the right home.
Buying a home is a big deal. The financial and emotional stakes are high - but the rewards can pay dividends for a lifetime. Plain and simple, owning a home can improve your quality of life, provide stability and give you a sense of control.
Sellers of Residential Property
We offer full service sales assistance and can advise on sales price, staging your home and educating you on what can be expected in regards to offers in today's sales market.
Sellers can often feel lost when it comes to the flow of a transaction and can benefit from our services. Understanding the importance of each step better prepares sellers to expect the unexpected. Before embarking on your next real estate contract, contact us to see how we can help.